Our qualities
What is the trademark of the Health Care Region of Bayreuth
The Region of Bayreuth is among the foremost locations serving your health needs in the north of Bavaria. It includes the city and district of Bayreuth encompassing an area of 1,341 square kilometres and 182,000 inhabitants. The clinics located there collaborate with one another to guarantee the maximum in highly differentiated medical care. A tight-knit selection of out-patient car, training facilities with a focus on medicine, companies providing medical equipment where service providers and administration in the health sector round out the supply.

This region lays the basis for moving up to a health and enjoyment region in the health sector based on high-quality in-patient and out-patient medical care.
A region serving your health needs with a wide range of leisure time and local recreation activities
This region not only has its core sectors bordering the health care system, but also substantial potential for the future. This includes health tourism and health-related sport and leisure time activities. The Region of Bayreuth has several thermal baths and spas, comprehensive local recreation activities and wellness facilities.
 This region has two central mountain range landscapes (the Nature Parks of Franconian Switzerland / Veldenstein Forest and the Fichtel Mountain Range) with renowned leisure time and local recreation activities.
But that's not all. This region has six award-winning spas and health resorts with unparalleled air quality, two of which have been awarded the highest honours: Berneck Spa and Bischofsgrün Spa.
The vision of the Health Care Region of Bayreuth
We not only want to preserve the expertise we have already gathered and expand on the activities offered by our health care region. We're looking forward to
linking up regional areas of expertise (such as health and tourism or health and logistics)
building on our pioneering ingenuity
preserving and expanding regional networks, and
boosting our visibility
Medical Care
The range of medical treatment of our intensive-care clinics is on the same level as German university clinics. The range of medical treatment of rehabilitation clinics covers all of the essential rehabilitation indications.
Our health centres/private practices offer medical services on a scale of nationwide ranking.
Health Tourism
Combining world-class medicine with enchanting countryside creates an attractive combination all within close proximity. At the same time, cooperation agreements between service and industrial firms attain a level of collaboration only to be found where there are major concentrations of population and industry.
Contact persons for our health care region
Netzwerkmanagement Gesundheitsregion Bayreuth
Eva Rundholz
Stadt Bayreuth, Wirtschaftsförderung
Luitpoldplatz 13
95444 Bayreuth
Tel.: 09 21 / 25 10 01
E-Mail: eva.rundholz@stadt.bayreuth.de


Gesundheitsregionplus Landkreis Bayreuth
Theresa Gugel
Gesundheitsamt Bayreuth
Markgrafenallee 5
95448 Bayreuth
Tel.: 0921 728-238
E-Mail: theresa.gugel@lra-bt.bayern.de
The Health Care Region of Bayreuth was awarded the Seal of Quality of the Health Care Region of Bavaria
Only particularly high-quality health care regions are awarded the Seal of Quality of the Health Care Region of Bavaria. The Health Care Region of Bayreuth was given the seal of quality on June 29, 2012.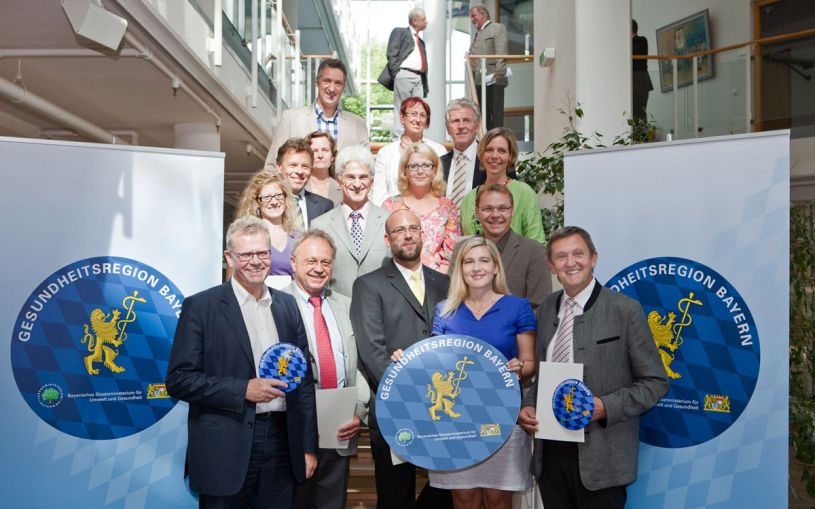 Bavaria – a better state of health